Welcome to the Division of Academic Innovation!
The rapid growth in HSC's online learning presence in multiple areas has prompted the restructuring of the Center of Innovative Learning and INCEDO (Continuing Professional Education) into one Division of Academic Innovation (DAI). This new division leads the HSC efforts in online learning, designing traditional face to face courses, educational media creation, faculty and staff development in education and technology, and continuing education credit for clinicians participating in our activities. We invite you to collaborate with us to design and develop amazing, innovative learning experiences.
Who We Are
Juan Sanchez Duarte
Academic Program Coordinator
Administration
Juan joined the HSC in the Fall of 2018 as a graduate student in the School of Public Health. Before working at DAI, Juan worked in the Lewis Gibson Library as a student worker and later as full-time staff. As an Academic Program Coordinator, Juan assists Kelly Zarwell at the JPS Health Network. He brings his data analysis, project management, and healthcare operations knowledge and skills to the team. He holds a Master of Health Administration and a Bachelor of Arts in Anthropology.
Vivian Seki
Digital Accessibility Specialist
Department of Educational Development
Vivian has a BA in Spanish and a MS.Ed in Instructional Technology. She has been a certified braille transcriber since 1990 and directed production centers of braille and other accessible formats since 1988 in agencies in Texas, Arizona, and Illinois. She taught community college classes in braille technology for 3 years, live and online. For three years before coming to HSC, she worked at Northern Illinois University remediating and creating accessible curricular materials for students and faculty.
Marcus Taylor
Instructional Designer
Department of Educational Development
Marcus joined HSC after serving in the Army for more than 20 years. He worked within the Army University System, Army Logistics University, and the Total Army School System as an Instructor/Facilitator. He is a Master Army Instructor and led professional teams of instructional designers and the Army's Professional Military Education program. He holds an Executive Master of Business Administration focusing on Leadership Development from Prairie View A&M University and has over 15 years of experience in graphic design.
Cynthia Edwards
Instructional Technology Specialist
Department of Educational Development
Dr. Edwards is an educator with a background in education, technology integration, business management, and music. Her recent research includes teacher educator technology standards, program evaluation, Universal Design for Learning, and digital micro-credentials. Her twenty years of teaching experience spanning kindergarten through higher education have provided opportunities such as workshop and conference presenter, adjudicator, and TIME (Technology In Music Education) state board member.
Kim Meyer
Executive Director
Administration
Dr. Meyer serves the Division of Academic Innovation as the Executive Director and holds an appointment as Associate Professor in PA Studies and in Medical Education. In these roles, Dr. Meyer provides leadership to the Division and provides support for faculty and students at HSC and within the community.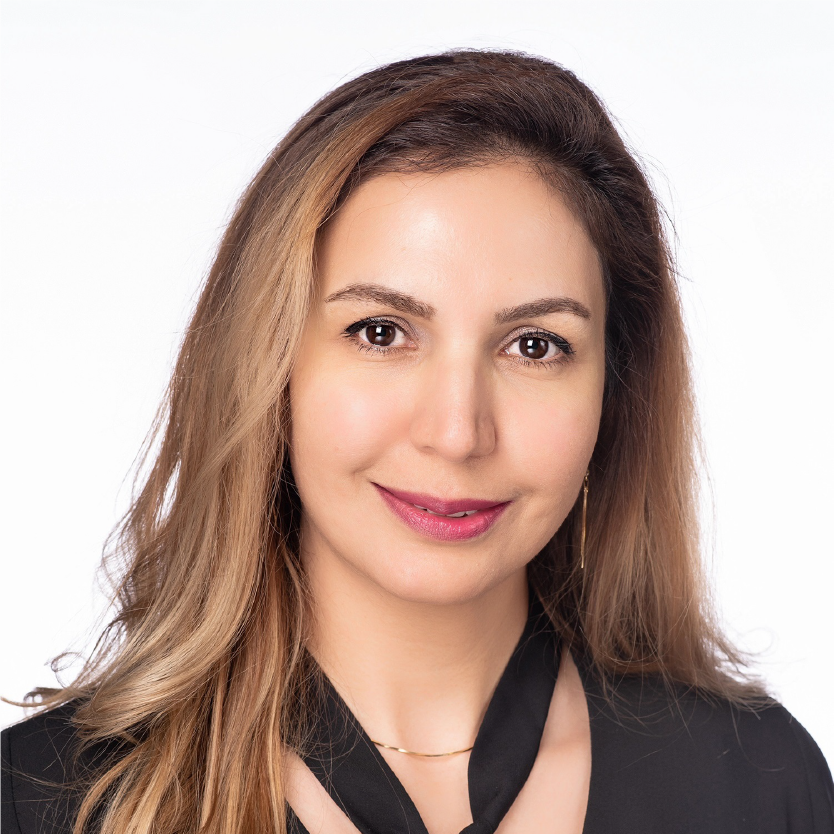 Leila Mahmoudi
Instructional Designer
Department of Educational Development
Leila joined HSC as an Instructional Designer on November 2021. She brought her experiences of more than 4 years of working with professional teams of instructional designers and web developers to design quality online courses. She is skilled in ELearning and web-based learning design. She holds a Master's degree in Education (MEd) with focus in Curriculum and Instruction with an emphasis in Learning, Design, and Technology from the University of Houston.
Laura Moore
Executive Assistant
Administration
Laura Moore is the Executive Assistant for the DAI. She is the first point of contact for our customers and is able to assist with anything related to DAI. Laura supports every member of the DAI team and also serves as administrative support for the Distance Education Committee and Microcredential Committee.
Kelly Zarwell
Sr. Program Manager
Administration
Kelly Zarwell has a long history in continuing medical education, working in the HSC CE Department for 15+ years. As a Senior Program Manager, Kelly leads a small team at JPS Health Network developing and implementing interprofessional/interdepartmental educational activities. In addition, Kelly works with DAI's external stakeholders to develop large-scale interprofessional education activities and multi-hour conferences.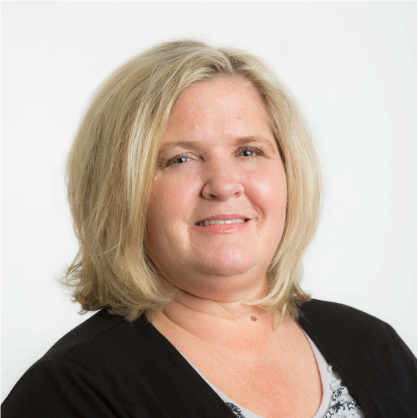 Jennifer Parker
Sr. Operations Analyst
Administration
Jennifer Parker manages DAI's financial and accounting support, as well as client and customer service. She has held various accounting positions with multiple corporations such as RadioShack, Glidepath Inc. and Dean Foods. Jennifer has a wealth of experience in customer service, account reconciliation, expense reimbursements as well as purchasing and accounts payable/receivable.
Caroline Gourley
Instructional Technology Specialist
Department of Educational Development
Caroline Gourley provides Canvas and instructional technology support to faculty, staff, and students across campus. She is the first point of contact for anyone emailing the DAI or Canvas. Caroline earned a Bachelor's of Science from UNT. Before joining the DAI in 2020, she worked in the Texas College of Osteopathic Medicine (TCOM) for 13 years performing several roles including course coordinator which sparked her interest in her current role.
Adam van Fossen
Instructional Media Specialist
Department of Media Production
Adam joined the HSC team as an Instructional Media Specialist in the summer of 2020. He graduated from the University of North Texas in 2013 with a degree in Media Production and has been producing media ever since. Adam specializes in many forms of media production and can help you with audio recording, filming, video editing, and more. He strives to try new and interesting ways to produce great media content, and has never met a project he has not been able to handle.
John McKenzie
Director
Department of Educational Development
John McKenzie manages the team that designs online courses, microcredentials, short courses, and continuing education. He is an adjunct faculty member for the Department of Health Behavior and Health Systems and chair of the Microcredential Committee. John holds master's degrees in Learning Technologies and Communication. He is a Certified Digital Accessibility Specialist (TxDLA), Quality Matters Peer Reviewer, and CPE Reviewer.
Honor Anderson
Instructional Designer
Department of Educational Development
Honor is a former secondary teacher specializing in pedagogy, assessment, academic technology, curriculum design and development, faculty development, creative instruction, and student-centered engagement. She holds a bachelor's degree in Business Management and a master's degree in Professional Development. She joined the HSC family in 2018 and currently serves as one of the campus' Quality Matters Coordinator. Helping others succeed is her biggest passion.
Jiaqi Yu
Instructional Designer
Department of Educational Development
Jiaqi Yu is an experienced designer with a demonstrated history of working in higher education and e-learning. She received her B.A. from Beijing Normal University, M.Ed. from the University of Toronto, and currently works on her Ph.D. in Instructional Technology and Human-Computer Interaction. As a QM coordinator and peer reviewer, she enjoys collaborating with faculty to improve course design and advocate for a high-quality learning experience.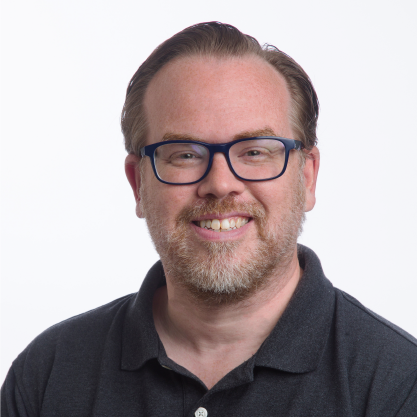 Stephen McBroom
Director
Department of Media Production
Stephen McBroom leads the efforts of the Educational Media team in the Division of Academic Innovation. Stephen works with clients to develop educational media that is outcomes driven. He has a passion for creating content that is innovative, relevant and engaging through the proper utilization of technology. He is a native Texan and has worked for UNTHSC in various departments creating media and educational content. He received his M.Ed. in Educational Technology from WGU and has over 20 years of experience in video production.
Andy Pottkotter
Graphic Designer
Department of Media Production
Andy Pottkotter is the DAI's graphic and web designer. He made this website! He also does animations. Sometimes, he makes whole modules in Articulate Storyline. If you couldn't tell, he wrote this blub himself. That's why it's written so well! He does a lot of copyediting, after all. He has a master's degree in Design with a focus in design research.
Rens Bais
Sr. Instructional Media Specialist
Department of Media Production
After working in the IT industry for close to 20 years, Rens joined the HSC team in December 2017. He produces media content for online, blended, and face-to-face courses using innovative technologies. He played a significant role in creating the OneUniversity studio. His specialties are 3D modeling and 3D animation. He has a diploma in 3D modeling from CG Spectrum College of Digital Arts.
Sujita Adhikari
Educational Program Manager
Department of Continuing Education & Assessment
Sujita Adhikari brings a public health background to the team and uses her needs assessment, program planning, and evaluation skills to execute and evaluate continuing education activities. As an educational program manager, she works in collaboration with different internal and external stakeholders to achieve optimal patient and community health outcomes. She is a Certified Public Health Professional and holds a Master of Public Health in Maternal and Child Health and a Bachelor's in Pharmacy.
Brenda Wilson
Instructional Designer
Department of Continuing Education & Assessment
Brenda holds the national credential as a Certified Healthcare CPD Professional. She brings her wealth of experience in educational design, program development, and project management to create and implement accredited continuing education across the health professions' spectrum. She holds a Master of Science in Learning Technologies and a Bachelor of Science in Organizational Management.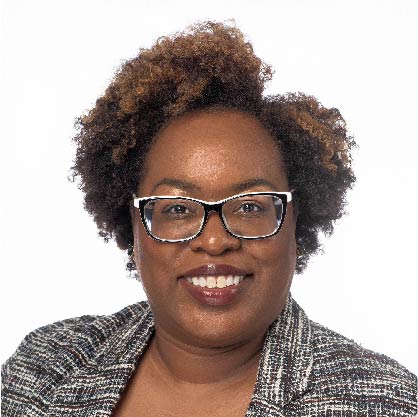 Adrienne Wilson
Instructional Designer
Department of Educational Development
Adrienne Wilson has worked in higher education for 10 years and has 4 years of course development experience. As an Instructional Designer, Adrienne consults on course design, content production, and supports faculty training and development. She graduated from the University of North Texas with a Bachelor of Arts in Sociology and Bachelor of Science in Emergency Administration and Planning. She obtained her Master of Education degree from The University of Oklahoma.
Ericka Harden-Dews
Director
Department of Continuing Education & Assessment
Ericka Harden-Dews is Certified Healthcare CPD Professional (CHCP) with over 15 years of experience designing continuing education and managing the continuing education function. She has a diverse set of skills in program planning, needs assessment, grant development, the governance of continuing education operations as well significant experience successfully leading multiple institutions/organizations through ACCME Accreditation and/or Joint Accreditation. She holds a Juris Doctor and Bachelor of Arts in Communications.